Pork Tenderloin with Honey-Spiced Mango Sauce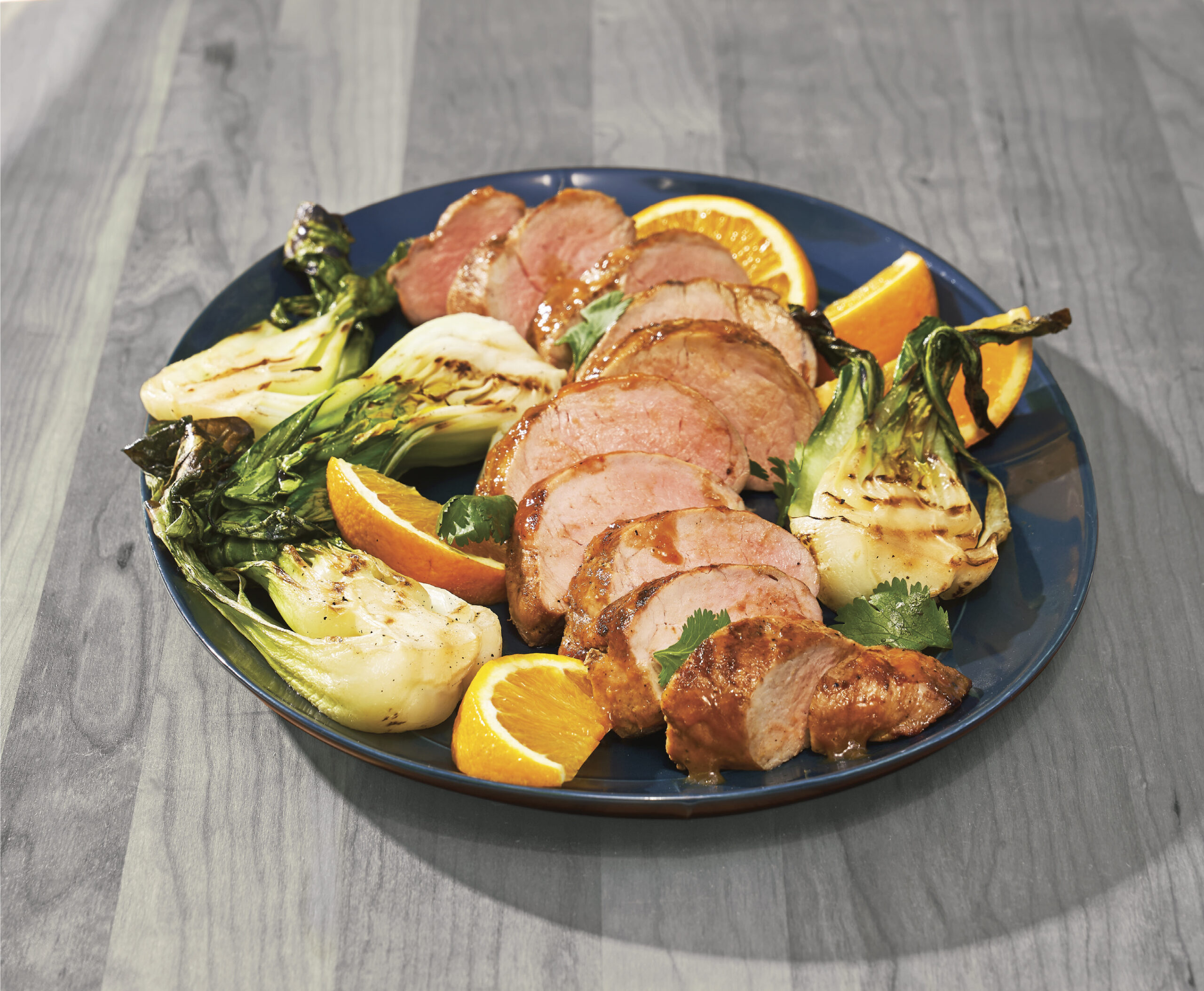 Ingredients
11 i
ngredients |
60 m
inutes | 4 servings
1 pork tenderloin (1- to 1 ½-pound)
canola oil
sea salt
black pepper
1 mango (medium ripe, pitted, peeled and diced, about ¾ cup)
1/4 cup honey barbecue sauce (bottled)
1/4 tsp. Sriracha
2 Tbsp. fresh orange juice
2 heads baby bok choy (cut lengthwise in half)
orange wedges (for garnish, optional)
Italian parsley (for garnish, optional)
Directions
Preheat grill to medium heat for direct grilling.

Meanwhile, rub pork tenderloin with 1 tablespoon oil; sprinkle with salt and pepper. Let stand at room temperature for up to 15 minutes.

Place mango in a food processor. Cover and process until puréed. Transfer to a small bowl; stir in barbecue sauce, Sriracha and enough orange juice to make of desired consistency. Set sauce aside.

Brush grill grate with oil. Grill tenderloin, covered, for 20 to 30 minutes or until internal temperature reaches 145°F, turning over and brushing with sauce halfway through grilling. Lightly brush bok choy with oil; grill for 3 to 5 minutes or until bok choy has grilled marks, turning once.

Transfer tenderloin to a cutting board. Loosely cover with foil; let rest for 3 minutes. Brush with additional sauce and cut into ½-inch-thick slices; serve with remaining sauce and grilled bok choy. Garnish with orange wedges and parsley, if desired.
Find More Nutritious Recipes