Aloha Pork Teriyaki Bowls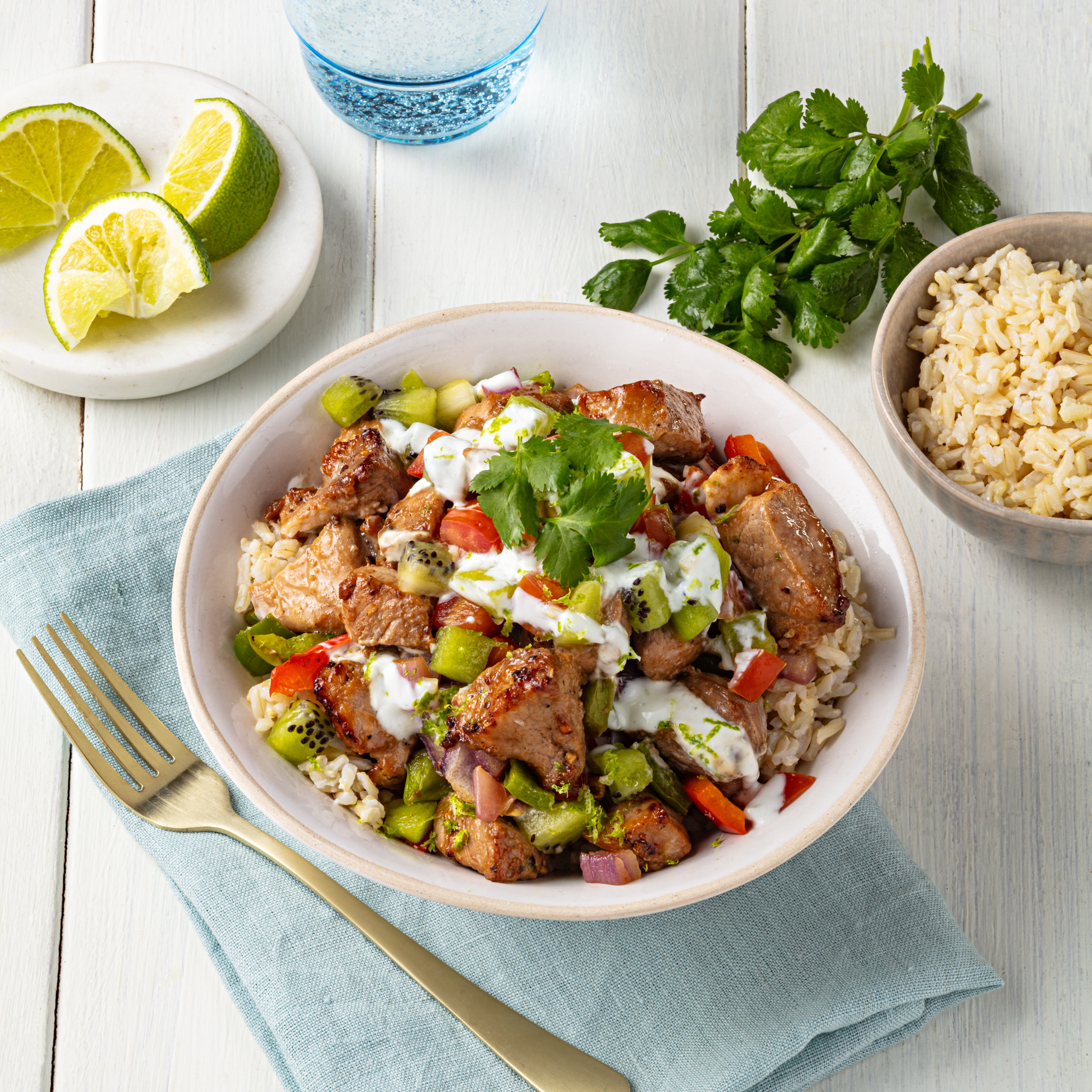 Ingredients
15 ingredients | 2 hours | 4 servings
1 lb. pork tenderloin (cut into 1-2" cubes)
1/4 tsp. kosher salt
1/8 tsp. freshly ground black pepper
1/4 cup teriyaki sauce
2 kiwi (peeled and 1/4″ dice)
1 Roma tomato (1/4″ dice)
1 lime (juiced, to taste)
1 red pepper (1/2" dice)
1 green pepper (1/2" dice)
1 red onion (1/2" dice)
1/2 cup Greek yogurt
1 lime (zested, divided)
water (as needed)
2 cups cooked brown rice
cilantro (for garnish, optional)
Directions
Place the pork in a large bowl and season with salt and pepper. Pour teriyaki sauce over pork and cover with plastic wrap. Marinate for 2-24 hours in the refrigerator.

In medium bowl, combine kiwi, tomato, and a squeeze of lime juice. Season with salt and pepper. Set aside.

Preheat the air fryer to 400° F. Remove pork from refrigerator and discard excess marinade. Add bell peppers and onion to pork, toss to combine. Place ingredients in the air fryer basket. Cook for 10-15 minutes, and until internal temperature reaches 145 degrees F, shaking and gently tossing halfway through.

In a small bowl, combine Greek yogurt and half the lime zest. Stir in water 1 tsp at a time until mixture reaches drizzling consistency. Season with salt and pepper. Add remaining lime zest to cooked brown rice. To serve, divide rice among bowls. Top with pork, kiwi salsa and drizzle with lime crema and garnish with chopped cilantro.
Find More Nutritious Recipes