Lemon-Garlic Tenderloin with Warm Sorghum Salad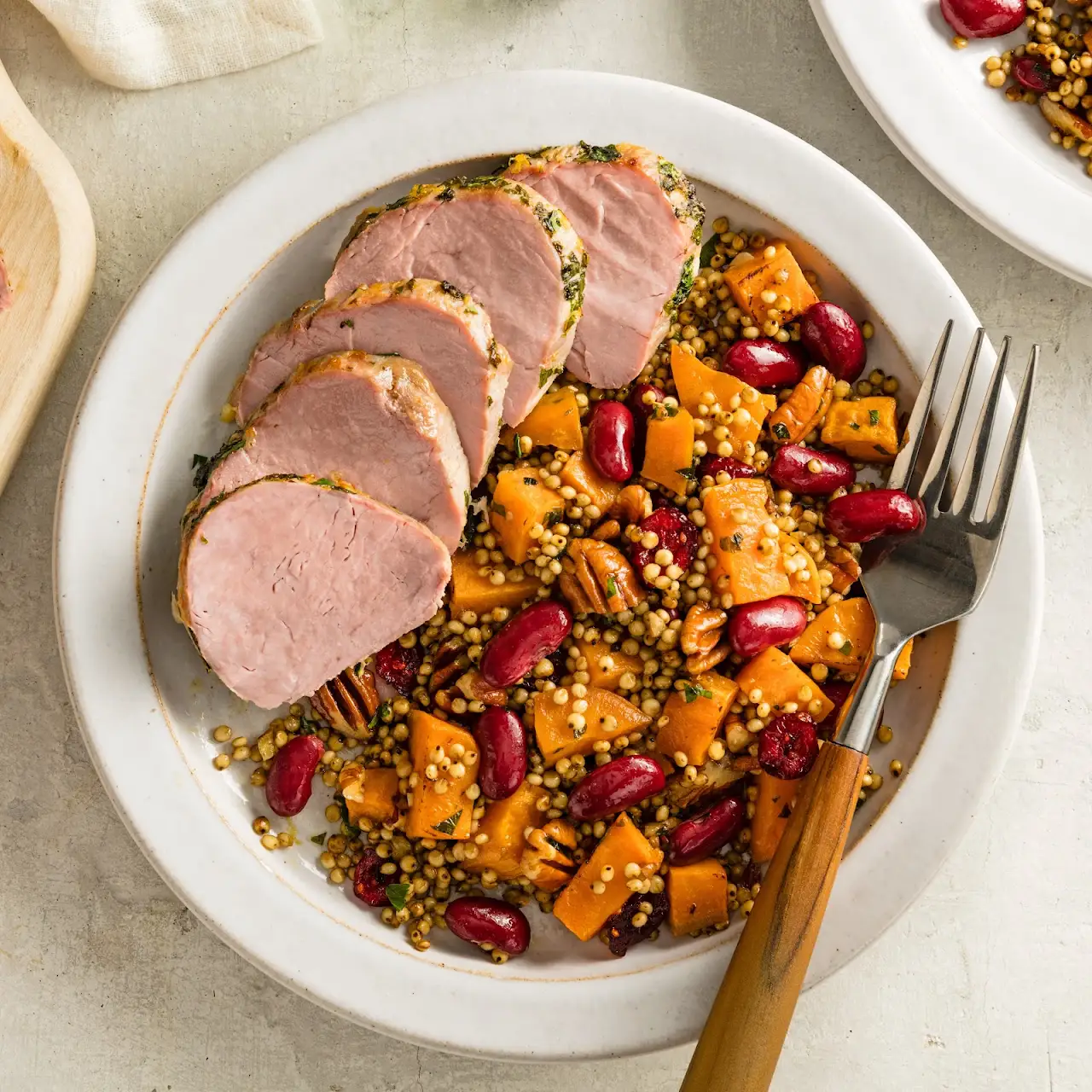 Ingredients
11 i
ngredients |
95 m
inutes | 6 servings
2 cups vegetable broth
1 cup sorghum (whole-grain)
2 Tbsp. olive oil
1 Tbsp. minced garlic
1 Tbsp. fresh parsley (minced)
1 1/2 tsp. lemon zest
16 oz. pork tenderloin (trimmed of fat)
1 medium sweet potato (peeled and cut into 1/2-inch pieces)
1 cup kidney beans (rinsed and drained)
1/2 cup dried cranberries
1/2 cup pecan halves
Directions
Preheat oven to 425° F. In a medium saucepan combine vegetable broth and 2 cups water. Bring to a boil. Add sorghum. Reduce heat to a simmer and cook, covered, 45 to 60 minutes or until tender.

Meanwhile, in a medium bowl combine olive oil, garlic, parsley, lemon zest, and 1/2 teaspoon each salt and pepper. Drizzle half of the oil mixture on pork; rub in with your fingers. Place pork in a shallow roasting pan. Add sweet potatoes to the bowl with the remaining oil mixture. Toss to coat and set aside.

Roast pork, uncovered, for 10 minutes. Arrange sweet potatoes around pork and roast 15 to 20 minutes more and until pork is 145° F and potatoes are tender. Remove pork from pan. Cover; let stand for 10 minutes.

Stir roasted sweet potato, beans, cranberries and pecan halves into cooked sorghum and heat through.

Slice pork tenderloin and serve with warm sorghum salad.
Find More Nutritious Recipes